The Nebuly Coat
John Meade Falkner
Events since 2020 have reminded many of us of the pleasure of reading and the value of books. As well as the novels on our list, such as David Toulmin's Blown Seed and John Meade Falkner's The Nebuly Coat, there are also plenty of very readable nonfiction books. In these worrying times, a dose of humour seldom goes amiss, and the many books by James A. Simpson are crammed full of funny stories as well as thoughtful paragraphs. His more recent books include At Our Age, with its insights into ageing, and Uncommon Sense. Or perhaps readers prefer to be taken to different places, such as the island of Socotra with Douglas Botting in his vivid and evocative Island of the Dragon's Blood, or Orkney with George Mackay Brown in books such as Letters from Hamnavoe. Very readable books dealing with different kinds of history are Lewis, A History of the Island, by Donald Macdonald, The Battle of St Monans, by Leonard Low, and Crème de la Crème, by Alasdair Roberts.
A few years ago we published the first paperback edition of George Mackay Brown's Rockpools and Daffodils. Well known as a novelist and poet, for many years George Mackay Brown also wrote a weekly column in the Orkney newspaper The Orcadian. As well as literary subjects, he dealt with other matters such as everyday life and customs in Orkney, his own idiosyncratic approach to cooking, history, the days of the week, the months and seasons of the year, his likes and dislikes, boyhood, the mysteries of the universe -- in a word, whatever interested him that week.
Four collections of his weekly articles have been published, of which Rockpools and Daffodils is the third. (The others are Letters from Hamnavoe, Under Brinkie's Brae and The First Wash of Spring.)
Rockpools and Daffodils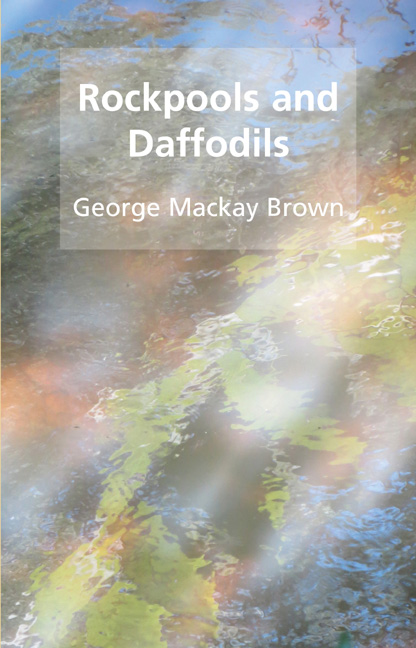 George Mackay Brown
Backlist Highlight

At Our Age
James A. Simpson
---
Founded in 2001, Steve Savage Publishers started with the acquisition of the list of Gordon Wright Publishing Ltd, of Edinburgh. Our intention is to develop Gordon Wright's strong commitment to Scottish writing. Our list includes books on Scottish history, literature, languages and folklore, as well as humorous titles, and new and classic writing from Scotland and elsewhere.